For the second time this month
, pro-life activists helplessly looked on as yet another ambulance rushed away from the St. Louis Planned Parenthood abortion clinic headed for a hospital emergency room. The October 29th incident is the twenty-third documented abortion emergency at this troubled clinic since July, 2009.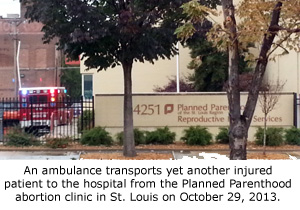 Emergency workers spent 14 minutes inside the Planned Parenthood office, the last remaining abortion clinic in Missouri, before emerging with a woman on a gurney covered head to toe with a sheet. The ambulance departed without the use of its lights or siren.
"Something is seriously wrong at the St. Louis Planned Parenthood abortion clinic. One woman after another is pulled out of that mill on a gurney. It's beyond belief that the authorities there have such apathy toward the plight of these women. Enough is enough!" said Cheryl Sullenger, Operation Rescue's Senior Policy Advisor.